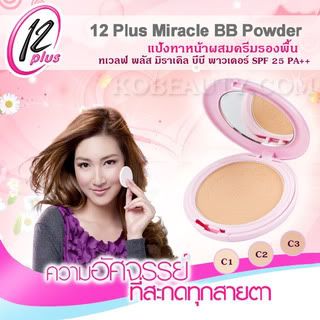 The '12 Plus Miracle BB Powder' transforms you to Korean star with micro and ultra fine Blemish Balm powder foundation.
It is enriched with an effective ingredient Ziyu Essence, the natural extract from Jeju Island in Korea for smoothing and glowing radiance.
The Miracle BB Powder protects skin and fights against aging due to its Vitamin C and Vitamin E formula.
The fine powder allows make up to adhere more evenly and gives a smooth light reflex for naturally make up.
An oil control powder is last for over 10 hours.
There are 3 shading colors to suit your skin – light, medium and natural beige.
UV Protection: Contains SPF 25 PA++. Protects face from UV-A and UV-B.